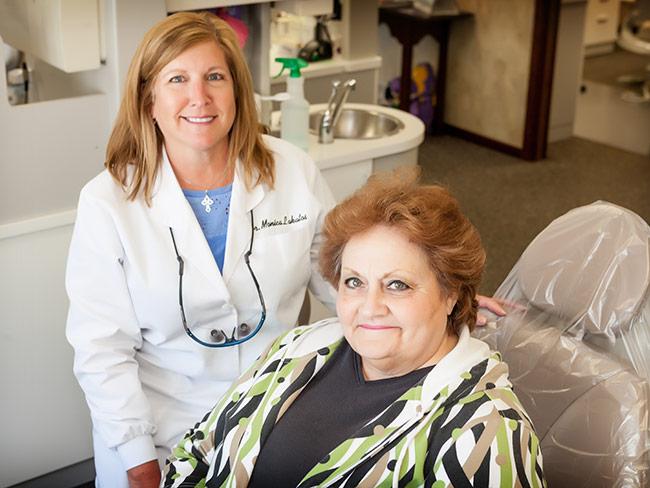 A group of community leaders began meeting in 2009. The focus was to discuss the need for increased access to dental care for uninsured individuals with acute or urgent dental conditions. Many of these individuals sought relief of dental pain and infection at local hospital emergency departments. The goal was to replicate the successful Dentists' Partnership program in Calhoun County/Greater Battle Creek Area.
With the help of Muskegon Community Health Project's (MCHP) Community Needs Health Assessment, this group estimated dental care is in the top 10 health needs in Muskegon County. Over 13,000 Muskegon County residents were uninsured or underinsured, low-income residents. These residents have the most unmet needs and cannot pay for dental treatment. Muskegon County reports 1,400 emergency department visits per year for dental pain and infection.
As a group, we believed one solution cannot address the volume of need in our community. We could only hope to provide comprehensive access when all those in a position to help were involved and committed. We worked to join together our community dentists, community funders, community hospitals, Muskegon Community Health Project, Muskegon County Health Department, Access Health and our FQHCs. Through the partnership of committed organizations and individuals, we began to provide an avenue for individuals to receive dental care.
In 2010, the Volunteer For Dental leaders began a three-year pilot program to engage community dentists and organizations that would benefit from volunteer hours. During 2010-11, 10 local dentists treated 50 patients who donated over 2,500 hours of community service. A third year of the dental pilot included 10 dentists offering emergency dental services to the same uninsured, low-income population. The program officially opened to the public in July of 2013.
---
Dental Program Goals & Objectives
Mission
To provide access to no-cost dental services and oral health education to community members without means, in exchange for community members' volunteer service.
Goals
We believe all people should have access to dental treatment and oral health education. This results in healthy and productive lives while decreasing the use of hospital services for urgent dental care and pain management.
Objectives
Provide dental services to improve the quality of life for those without means.
Educate and encourage patients to maintain their oral health and prevent disease.
Offer a dental information center to answers questions for community members.
Reduce volume of need over time by improving the frequency of good oral health behaviors.
Introduce volunteerism to those who have not experienced it before with easy access.
Provide a source of additional volunteer support to community agencies.
Value each individual's contribution to the program.
Work with local referral sources to develop a mechanism for tracking.
Board of Directors
| | | |
| --- | --- | --- |
| Jackie Lindrup, RDH, MEd | President | Owner, Dental Seminars and Consulting |
| Michelle Matheson, DDS | Vice President | Northshore Dental Associates |
| Jessica Lambert, DDS | Treasurer | Great Lakes Dental Excellence |
| Robin Lyons | Secretary | Office Assistant |
| Dennis Childers | Board Member | Community Member and Program Participant |
| Amy Florea | Board Member | Community Services Director Senior Resources |
| Briana Bishop | Board Member | Access Health |
| Kelly Levelston | Board Member | Community Member and Program Participant |
| Randy J. Novotny | Board Member | CPA Steensma Novotny PLC |
| Suzanne Tanis, RDH, BS | Board Member at Large | Executive Director of VFD |
| Connie Verhagen, DDS | Board Member | West Coast Pediatric Dentistry |
| Vondie Woodbury | Board Member | The Woodbury Group – President/Consultant |
Innovative Design: Dentist Contributions
The foundation of Volunteer For Dental is a commitment among community dentists in West Michigan to join together to serve individuals with the gravest and most urgent needs, regardless of their ability to pay. A key component of Volunteer For Dental is the load is shared equitably among those participating. No one dentist bears an undue burden. In addition, support structures are established for the dentists who are serving the uninsured.
Patient Contributions
We believe in the value of each individual, regardless of financial worth. Dental patients who receive help through Volunteer For Dental have the ability to make a valuable contribution to their West Michigan community. This is a win-win program where the community wins due to the volunteer hours given in the community. The client wins because they increase their self-worth, boost their self-esteem, receive dental work and improve their health. Attending an oral health education class and volunteering an initial four hours are requirements to be enrolled in the program.
Oral Health Education
In order to ensure the volume of need decreases over time, we believe it is important to increase the frequency and quality of oral health education among those we serve. Accordingly, every recipient who receives dental treatment through Volunteer For Dental completes an oral health education class, receives one-on-one training with a dental hygienist, and is given toothpaste, a toothbrush and floss.